Kokoda Trekking Gift Certificate
The cost of the Voucher is AU$500(Deposit for Trek chosen) and this is to secure voucher and booking once a trek is chosen. The cost of the voucher is non-refundable with final balance of trekking costs being due 60 days prior to trek departure. The gift certificate can be edited to make it more personal for the recipient.
When purchasing a gift voucher it is recommended to allow a few days to create the voucher to ensure it is perfect for the recipient and a few days for postage so if it is for a birthday gift for example please do allow time for this process. We able to email finished Voucher ahead of information package which accompanies the Voucher for you to print ahead of its arrival if needed.
We have information packages ready to send out to all trekkers who have purchased a gift voucher to include Gift Voucher with name of recipient a book, DVD and information disc. We also give access to our www.fit4treks.com.au training website.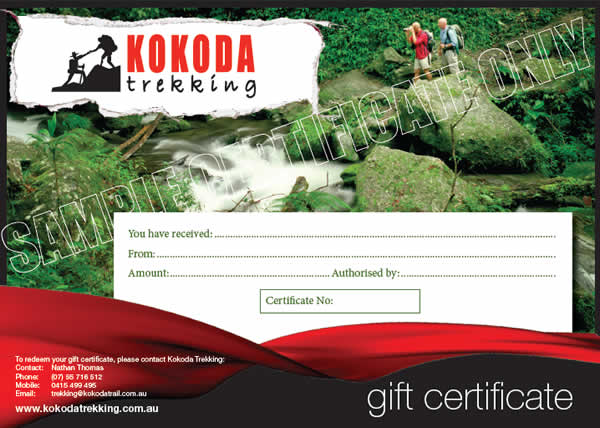 ---