ANZAC TREK 2018 at Isurava – PNG Guided Trek
Date: 23 April 2018 – 30 April 2018
ANZAC Day Dawn Service at Isurava Memorial – PNG Guided Trek. This trek will commence when you are flown over to Popondetta on the 23rd April. The following day 24th you will make your way up to Isurava Memorial where you will spend the night waking up the next morning to a dawn service. The trek will finish when you walk off the track at Owers' Corner on the 30th April. Trek 1105:
---
*Please Note Trek locations will not show until trek has started.
---
Itinerary:
Day 1 – 23rd April 2018: POM – POPONDETTA – PIJA RETREAT
Day 2 – 24th April 2018: KOKODA – ISURAVA
Day 3 – 25th April 2018: ISURAVA – IORA CREEK
Day 4 – 25th April 2018: IORA CREEK – TEMPLETON'S CROSSING
Day 5 – 26th April 2018: TEMPLETON'S CROSSING – KAGI
Day 6 – 27th April 2018: KAGI – MENARI
Day 7 – 28th April 2018: MENARI – NAURO
Day 8 – 29th April 2018: NAURO – UA-ULE CREEK
Day 9 – 30th April 2018: UA'ULE CREEK – OWERS' CORNER
---
Update 23rd April 2018
Trek 1105: Our latest group of trekkers were up bright and early to catch their flight to Popondetta this morning. This trek will head to Isurava Memorial for Anzac Day. So far today, they would have been up around 4am to be ready to head to the airport to book in for their flight. This was followed by a 20 minute flight to Popondetta where they were met by our hire car company and driven up to Kokoda for the commencement of their trek. They will have a short day today and tomorrow will continue until they reach the Memorial where they will sleep. The following morning they will wake up on Anzac Day and be part of a service being held there. Later they will continue their walk and stop most likely at Eora Creek. The guide for this trek is Earnest Jinga. Trekkers include: Darren Thomas; Hamish Patterson and his friend Shaun Foster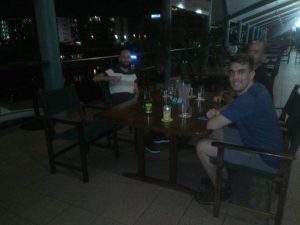 ---
Update 24th April 2018
Trek 1105: Earnest called by sat phone to say they reached Isurava Memorial around 1pm today and set up camp to make sure they got a spot to camp tonight. Throughout the day more and more trekkers turned up so they could wake up there tomorrow morning, 25th April for the Anzac Day service. On this trek is Shaun Foster who is on his second trek with us. When he walked almost 5 years ago he was in the company of a famous Australian actor who later went on to act in a movie about Kokoda. His name is Matt Le Nevez who starred in ABC's Parer's War – Story of WWII Camerman Damien Parer. http://www.dailymail.co.uk/tvshowbiz/article-2611732/Matt-Le-Nevez-reveals-lost-staggering-10kgs-just-ONE-WEEK-trekking-Kokoda-Trail.html
Imagine for a minute waking up here tomorrow. Earnest said the service is to begin at 5:30am
---
Update 25th April 2018
Trek 1105: Earnst called to say they woke up to a wonderful Anzac Day Service at Isurava Memorial and left there around 7am. Tonight sees them at Templeton's II. Trekkers and porters all did well today. Last night there was very heavy rain at Isurava and today the track remains very wet.
---
Update 26th April 2018
Trek 1105: Earnst reported in and said they are at Naduri tonight. Today it rained quite heavy so hard going. He said they were all soaked and cold and were looking forward to getting warm and a change of clothes. The plan tomorrow is to pass the half way point of Efogi and to head to Agulogo for the night.