ANZAC Fast Trek 2018 – PNG Guide
Date: 19 April 2018 – 24 April 2018
ANZAC 2018 – Owers' Corner to Kokoda – This trek has been for the fitter person who does not wish to take longer than necessary away from their jobs or family. It will commence on the 19th April. The first day will be a short one down to Goodwater, then be prepared to tough it out and arrive in Kokoda on the 23rd April where you will overnight as our guests. The following day you will be flown back to Port Moresby where you will spend the night. The next morning 25th you will be picked up at 4am and driven out to Bomana War Cemetery for the Dawn Service. Following the service our bus will head to the Royal Papua Yacht Club where you can mix and mingle, enjoy some breakfast and then back to your accommodation in time to book out and catch your flight back home. Trek 1107: PNG Guide Eric Uwea
---
---
Itinerary:
Day 1 – 19th April 2018: Owers' Cnr to Ioribaiwa
Day 2 – 20th April 2018: Ioribaiwa to Menari
Day 3 – 21st April 2018: Menari to 1900/Myola Junction
Day 4 – 22nd April 2018: 1900/Myola Junction to Alola
Day 5 – 23rd April 2018: Alola to Kokoda to Pija
Day 6 – 24th April 2018: Pija to Port Moresby
Day 7 – 25th April 2018: Attend Bomana War Cemetery
---
Update 18th April 2018
Trek 1107: Darren Smith arrived in town this afternoon walking for the second time in the opposite direction, this time from Owers' Cnr. He was supposed to overnight and start tomorrow but due to the rain and slippery conditions I suggested to him that we were ready and prepared to take him straight to Owers' Corner therefore giving him an earlier start in the morning as he is on a fast trek and has to catch up to the two lead treks ahead of him. He sounded wrapped with the idea when I spoke to him and they set off around 2pm from Jackson's airport. The guide for this trek is Eric Uwea from Sogeri. Darren has Tom Hango as his personal porter who has won one of our races in less than 18 hours Owers' to Kokoda so he is in good hands. He must be fit as he has set himself a 4 night 5 day trekking experience. Go Darren, have a great trek.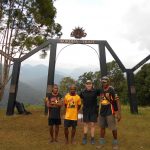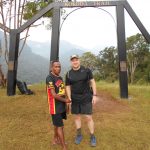 ---
Update 19th April 2018
Trek 1107: Eric phoned around 6pm to say its WET, MUDDY & SLIPPERY. He said they spent last night at Goldie River and today find themselves at Ofi Creek. Darren did well today and Tom and Pescol's thongs survived the day! I asked why they did not wear shoes and I could hear them laughing in the background – like der, who needs them! They are surrounded by large groups and tomorrow the plan is to escape and try their best to get ahead of the other groups and head to Brigade Hill for the night.
---
Update 20th April 2018
Trek 1107: Eric called and said they were camped for the night at Brigade Hill. He said Darren was resting as was absolutely spent…then added….we are too, a BIG BIG DAY. Ofi Creek to Brigade Hill, tough going but thats the schedule Darren has set for himself. Eric said they are still experiencing wet conditions. Keep going guys you are doing really well to reach this point given the hours spent on the track. Picture them walking into the half way point of Efogi. Tomorrow the plan is to reach Naduri or push further on depending on where they decide to pull up for the night. Please note, not actual photographs from this trek. Darren's photographs will be posted on their return to the base once back in Port Moresby.
---
Update 21st April 2018
Trek 1107: Hot on the heels of trek 1104 is Darren, Eric Uwea, Tom Hango and Pescol Kageni. I have not heard from Eric today but their GPS has them in approx the same area as Pat's group so imagine they will all catch up sometime tomorrow. The first pic below is how trekkers used to cross over Eora Creek, but in recent years they have been spoilt with a cane bridge! Think of them tomorrow crossing this loud raging river!
---
Update 22nd April 2018
Trek 1104 & Trek 1107: Both of these treks are spending the night together at Alola Village. Tomorrow they will walk off the track in Kokoda but not before another big day. Early tomorrow they will walk down and into Isurava Memorial which is an historical point of the track with a lot of war history, but where the memorial is located is beautiful. The girls tomorrow will not doubt be emotional as they reflect on the memory of their father who sadly passed away this year. Am sure Darren even for the 2nd time on the track will in awe of this area of the track.
---
Update 23rd April 2018
Treks 1104 & 1107: These two treks are now sticking together. I just received a phone call from another trek that commenced in Kokoda today walking towards Isurava Memorial for Anzac Day. The guide said he has met up with some of the boys but trekkers not yet as they are still making their way down off the mountain. Picture them today walking through the 'wild choko' fields on their way to the finish point. Keep going, not too far away now and you can celebrate your successful crossing of the Kokoda Trail in wet muddy rainy conditions.
Treks 1104 & 1107: Congratulations are in order as everyone is now in Kokoda. I just got off the phone after talking with Marilyn and Darren. They both seemed very happy with themselves and so they should be. Darren said it was much much tougher than when he walked it before due to the rain and mud. He said without the boys help he doubts he would have made it. Marilyn said she has a few blisters here and there but lucky she was with her sister who is a trained nurse. For years Marilyn has been following other trekkers progress through our website but said it was harder than she had thought it would be. Well done to you all. Look forward to hearing more stories from my cousins when back home. To all our staff, thanks for taking care of the trekkers and getting them safely to Kokoda. Photographs from all treks will be posted once camera's have been returned to our base.
---
Update 24th April
Trek updates on the eve of Anzac Day.
Trek's 1144; 1104 and 1107: all trekkers are now back in Port Moresby and as I type should be out enjoying dinner. They were booked to fly in early hours of this morning but late yesterday, PNGAir changed their flight time to this afternoon book in of 13:35pm. This meant they arrived back this afternoon. I heard that gave Maryanne some time to cook for them this morning. I am led to believe they tucked into doughnuts and some more pizza with leftovers from last night. Before heading to the airport trekkers were taken to the Popondetta War Memorial area.
---
Update 25th April 2018
Anzac Day at Bomana War Memorial this morning 25th April 2018. Lest We Forget